HAMMOND STADIUM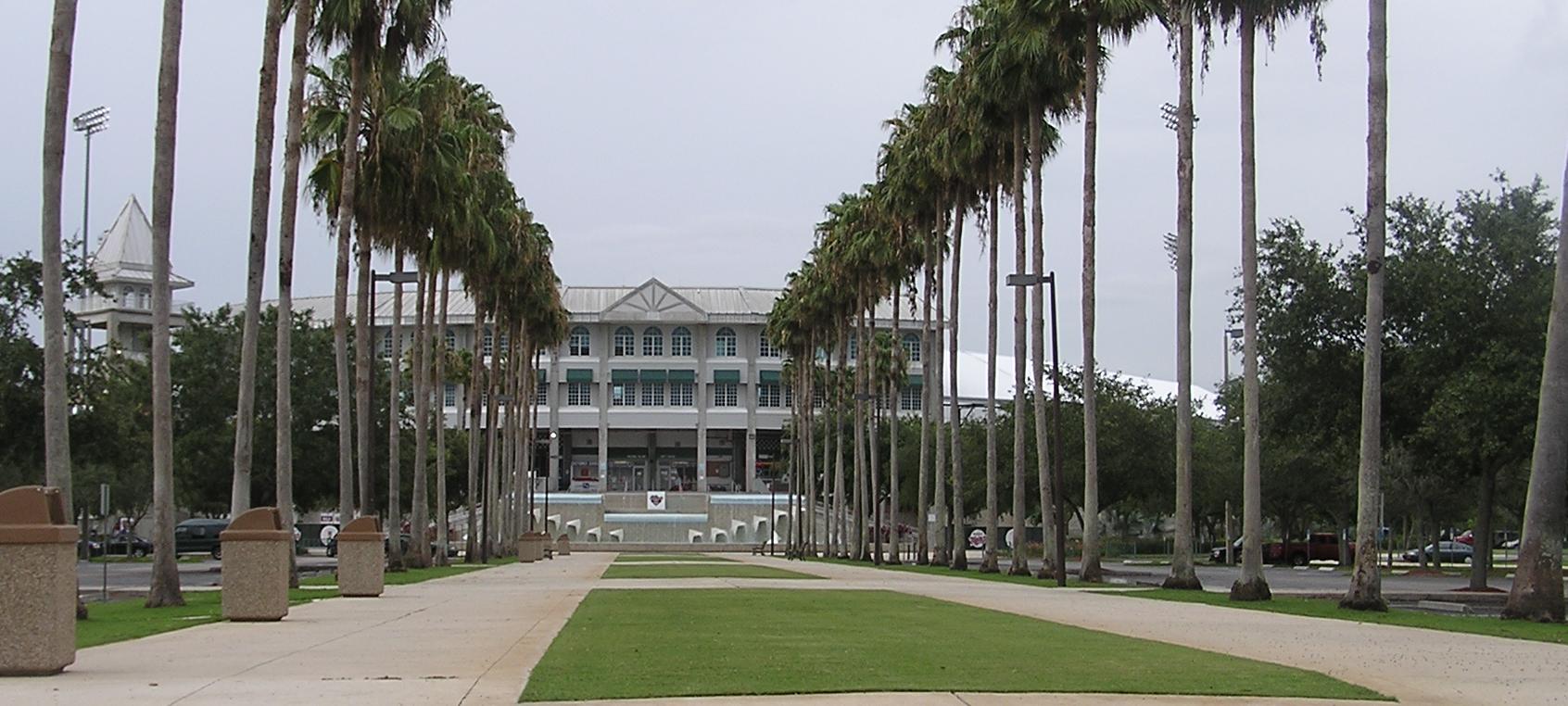 TEAM ::: FORT MYERS MIRACLE
LOCATION ::: FORT MYERS, FLORIDA
MY FIRST VISIT ::: JUNE 19, 2007
OPPONENT ::: TAMPA YANKEES
LEVEL ::: FLORIDA STATE LEAGUE 'A'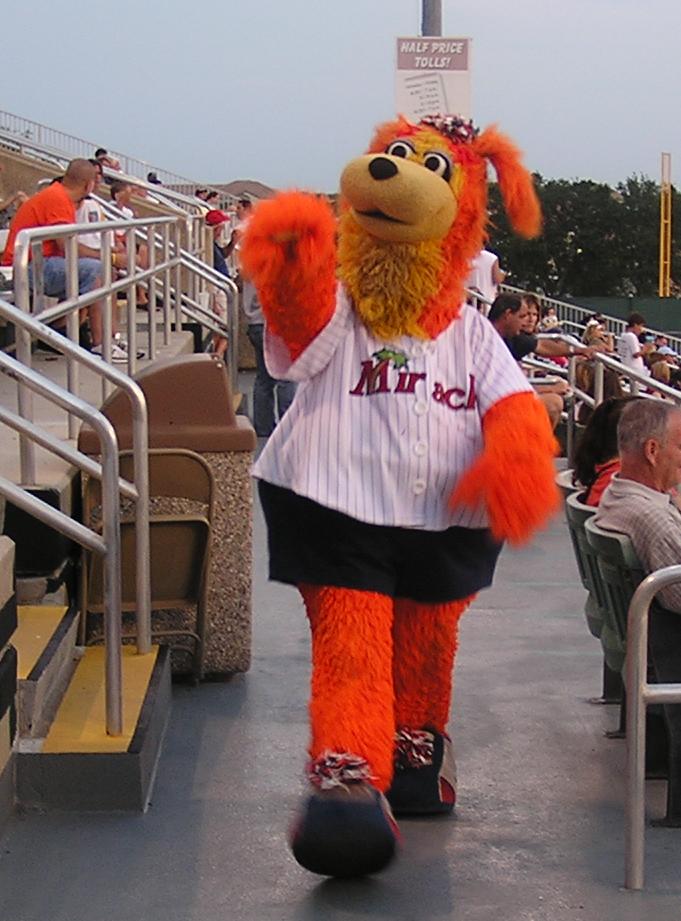 RATINGS
BALLFIELD ::: A
SCOREBOARD ::: C
FACILITIES ::: A
FOOD ::: B
MASCOT ::: B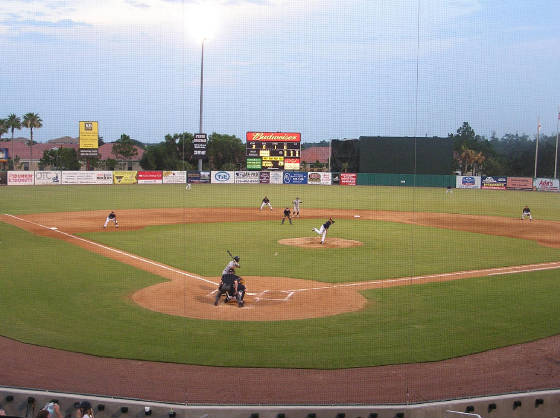 MY TAKE ON THE PARK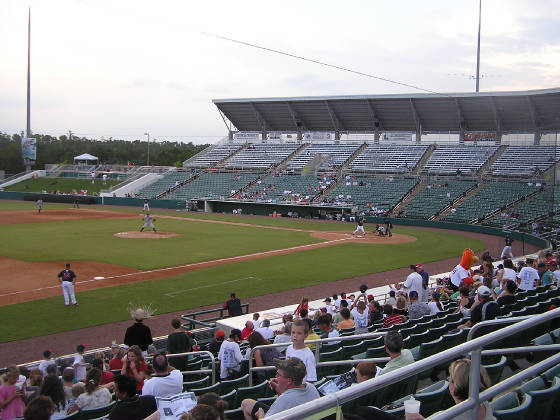 THE FLORIDA STATE LEAGUE IS MADE UP OF TEAMS WHO PLAY IN FACILITIES THAT ARE THE SPRING TRAINING HOMES OF THE MAJOR LEAGUE AFFILIATES. IN MARCH
CROWDS OF PEOPLE FILL THESE PARKS BUT ONCE APRIL HITS, THESE PARKS DRAW
LESS THAN 1000 PEOPLE PER NIGHT, MANY DRAW LESS THAN 500. MOST OF THE TEAMS RELY ONLY ON SPRING TRAINING AND DON'T DO MUCH FOR THE SEASON, HERE AT HAMMOND STADIUM IT IS DIFFERENT. THE FORT MYERS MIRACLE SEEMS TO TRY
TO DRAW FANS AND BEING OWNED MY MIKE VEECK, THEY DO A PRETTY GOOD JOB.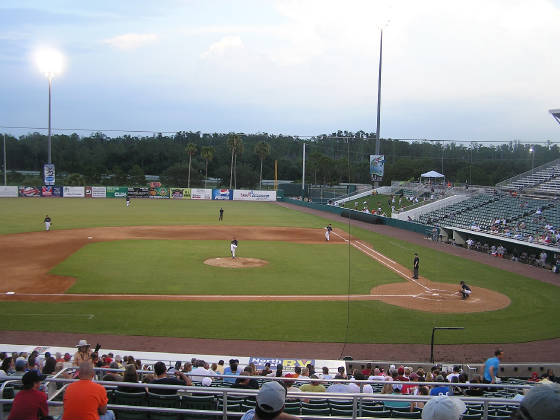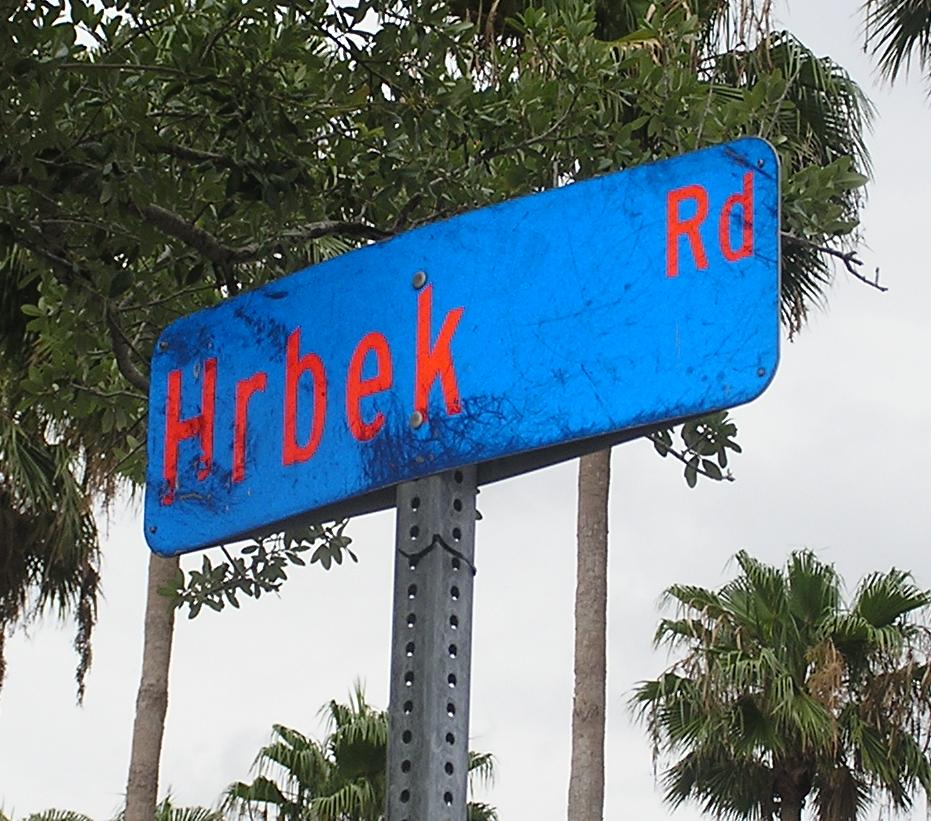 WHEN DISCUSSING HAMMOND STADIUM, YOU HAVE TO START WITH THE EXTERIOR. $3
GETS YOU INTO THE PARKING LOT WHERE YOU HAVE A CHOICE TO PARK IN ROWS
NAMED AFTER TWINS GREATS. KAAT, CAREW, AND HRBEK GIVE A MAJOR LEAGUE FEEL TO THE PARKING AREA.
BEING THE SPRING TRAINING HOME TO THE MINNESTOA TWINS, HAMMOND FIELD OFFERS FANS WHO ARE USED TO DOULBE DIGIT NEGATIVE TEMPERATURES A GRAND ENTRANCE LINED WITH PALM TREES AND AN ATTRECTIVE FOUNTAIN. ALL OF THIS MAKES FOR A FIRST CLASS FEEL TO THE LEE COUNTY SPORTS COMPLEX.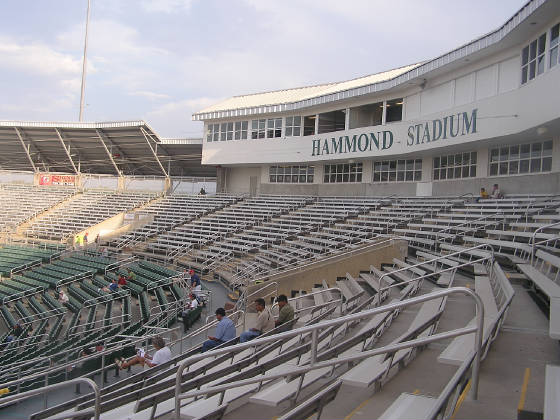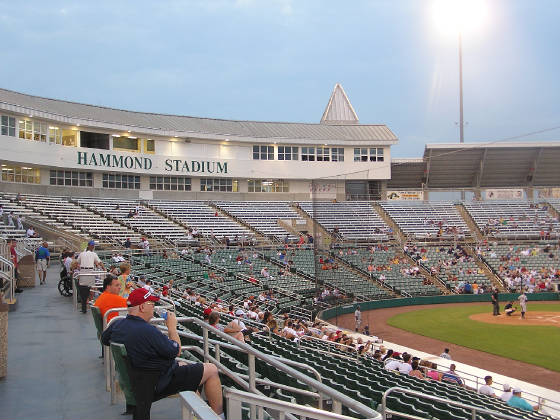 ONCE THROUGH THE GATES, TAKE A WALK UP TWO FLIGHTS OF STAIRS TO THE MAIN CONCOURSE AREA. A GIFT SHOP AT THE TOP OF THE STAIRS AWAITS AND A COUPLE OF CONCESSION STANDS LOCATED ON BOTH SIDES OF THE HOME PLATE AREA. SO FAR EVERYTHING SEEMS PRETTY GOOD AND WITH ACTUAL FANS ATTENDING THIS FLORIDA STATE LEAGUE GAME, THERE IS A VERY GOOD FEEL TO THE PARK.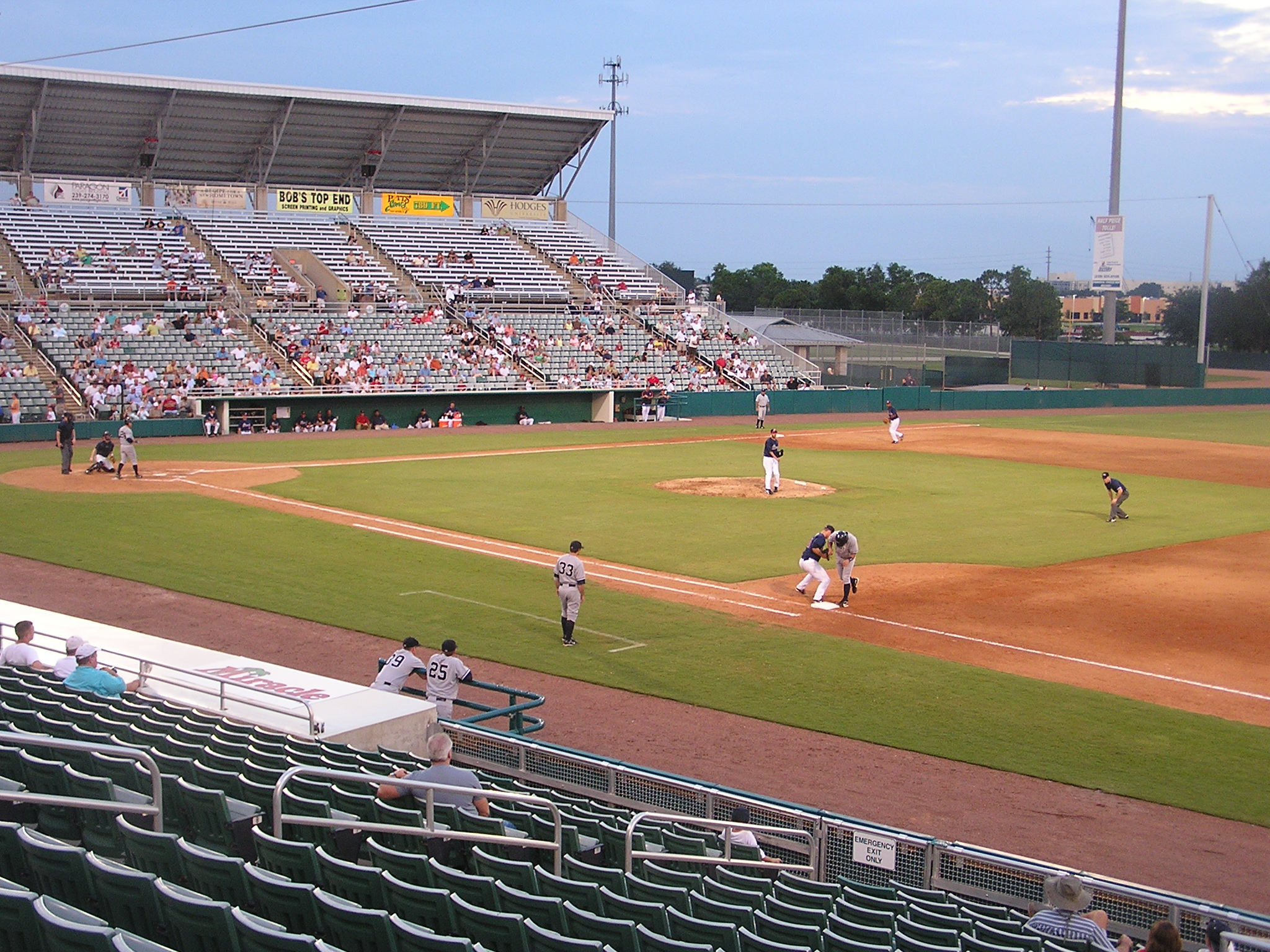 ONCE INTO THE SEATING AREA, THERE ARE PLENTY OF SEATS AVAILABLE WITH APPROXIMATELY 20 ROWS OF CHAIRS MAKING UP THE LOWER LEVEL AND THE REST OF THE PARK MADE UP OF ALUMINUM BLEACHERS, THANKFULLY WITH BACKS.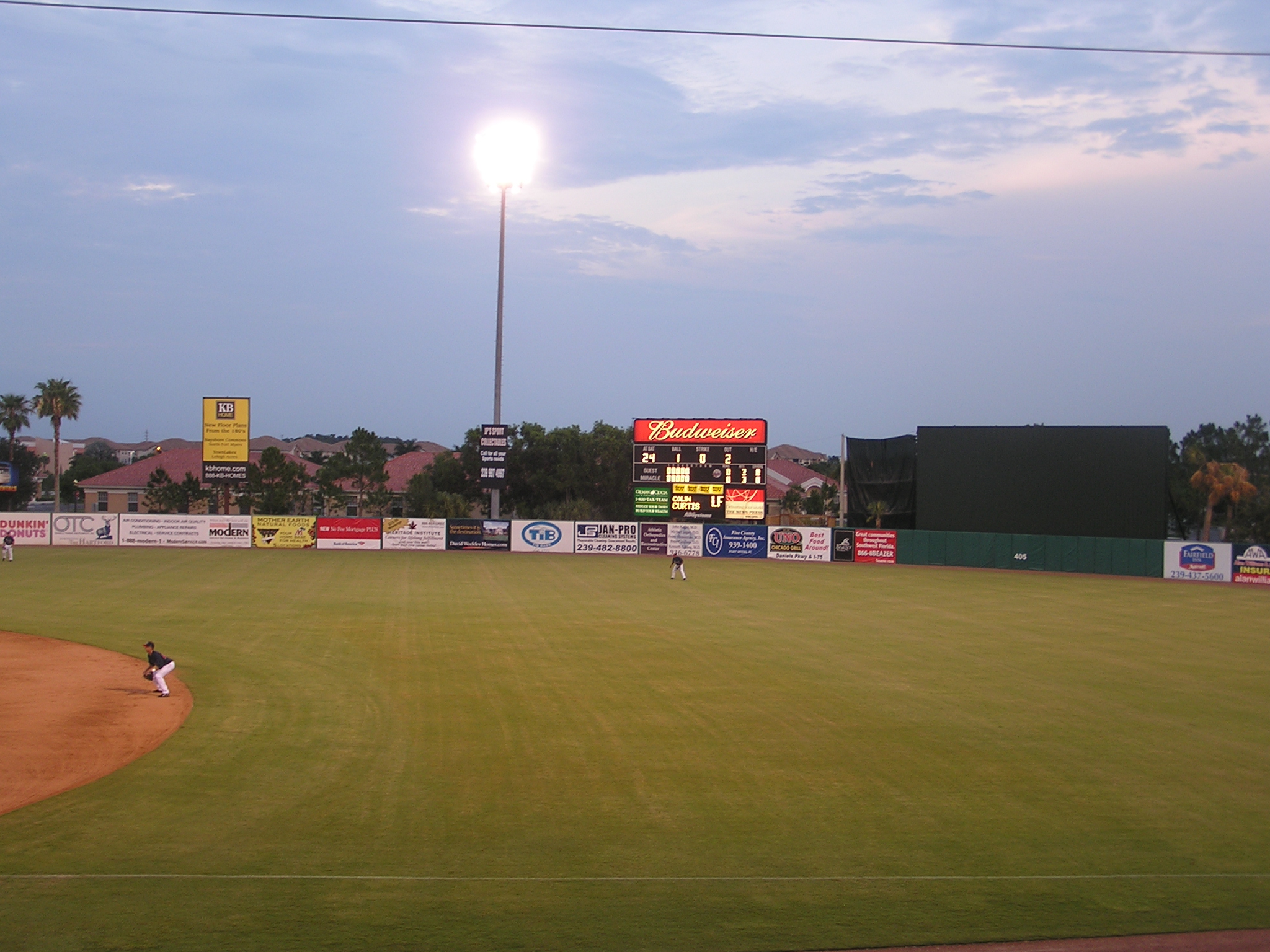 AS FOR THE GAME, IT IS HANDLED PRETTY WELL HERE. THERE AREN'T MANY BETWEEN INNING PROMOTIONS BUT EACH DAY OF THE WEEK HAS A PROMOTION FROM A LOCAL ESTABLISMENT. I ATTENDED ON A 2 FOR 1 BEER NIGHT, THE CROWD MAINTAINED CIVILITY AND MADE FOR A CONTINUED ENJOYABLE NIGHT.
HAMMOND STADIUM OFFERS A MAJOR LEAGUE ENTRANCEWAY AND AN OWNERSHIP GROUP THAT TRIES TO MAKE SOMETHING WORK. I WILL SAY HIS ABOUT THE FANS IN FORT MYERS, THEY ARE VERY BRAVE WHEN IT COMES TO STORMS. THERE WERE
THREATENING CLOUDS, THUNDER AND LIGHTENING CLOSE TO THE PARK TREATING THIS ACTIVITY AS PAR FOR THE COURSE.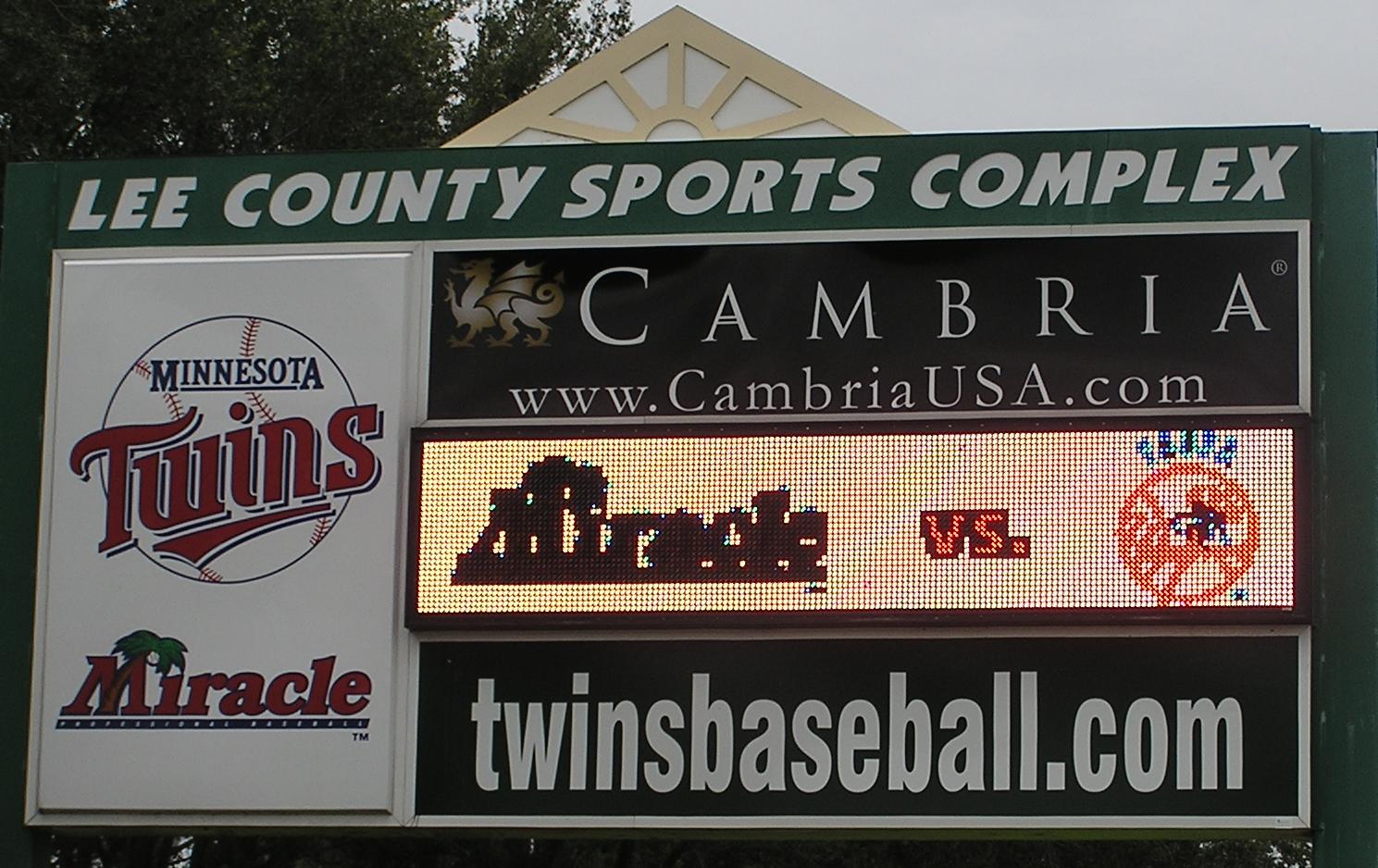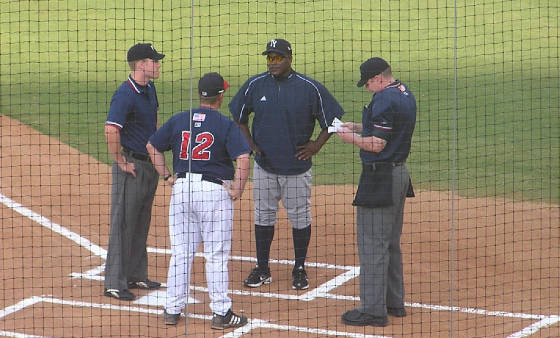 THE LINE UPS
TAMPA YANKEES MANAGER :::
19 Luis Sojo
FORT MYERS MIRACLE MANAGER :::
12 Kevin Boles
TAMPA YANKEES
6 Reegie Corona ss
24 Colin Curtis lf
56 Jose Tabata rf
46 Juan Miranda 1b
17 Edwar Gonzalez dh
26 Marcos Vechionacci 3b
21 Tim Battle cf
34 Francisco Cervelli c
2 Kevin Russo 2b
30 George Kontos p
48 Jose Valdez LP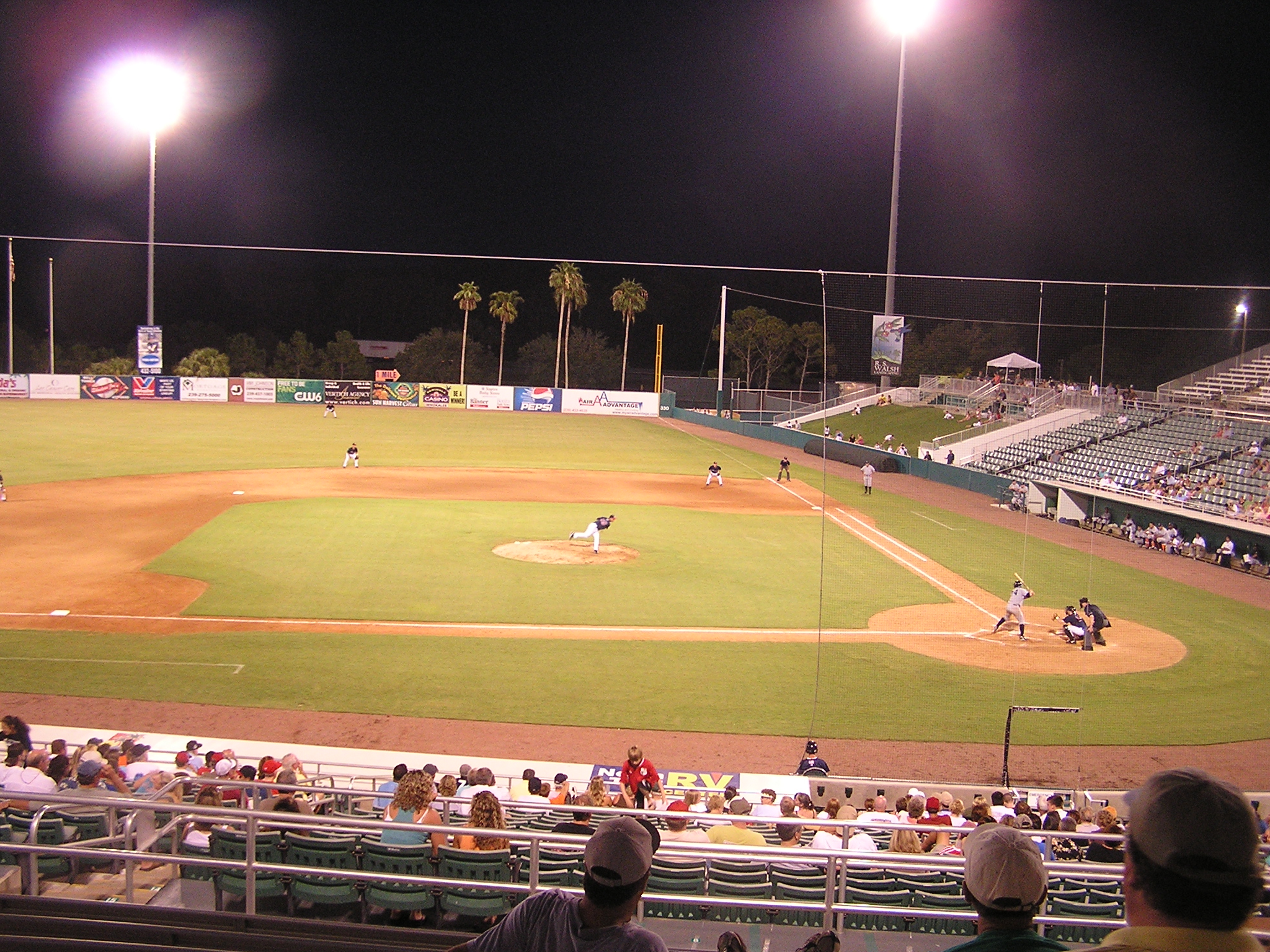 FORT MYERS MIRACLE
8 Steve Tolleson dh
5 Luis Ugueto ss
7 Juan Portes 3b
32 Erik Lis lf
9 Edward Ovalle cf
16 Caleb Moore c
11 Whit Robbins 1b
21 Eli Tintor rf
22 Toby Gardenhire 2b
39 Yohan Pino p / WP
31 Alexander Smit S
YANKEES 000 000 000 0 5 0
MIRACLE 000 000 02x 2 6 1
TIME ::: 2:06
ATTENDANCE ::: 1,286
WEATHER ::: 86 PARTLY CLOUDY EXTREMELY HUMID
SEND ME AN E-MAIL

LINKS
The Official site of the Fort Myers Miracle
The Official Site of the Minnesota Twins, Spring Training Tenant of Hammond Stadium
Fort Myers weather from WEATHER.com

© 2000-2012 UNCLE BOB'S BALLPARKS
I AM IN NO WAY AFFILIATED WITH ANY OF THE TEAMS ON THIS PAGE ... THIS PAGE IS MEANT FOR INFORMATION PURPOSES ONLY.